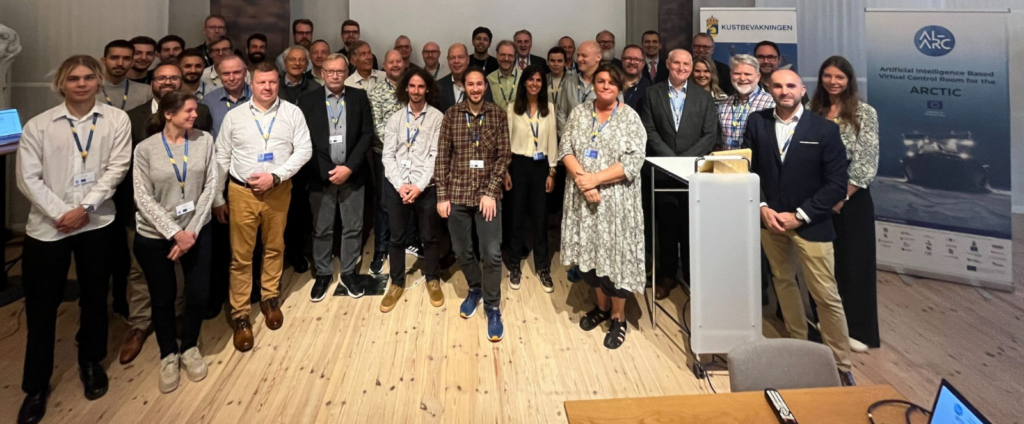 AI-ARC Baltic Demo takes place in Karlskrona, Sweden
Hosted by the Swedish Coastguard, The AI-ARC projects' Baltic Demo took place in Karlskrona Sweden on the 21st of September. A group of some 50 persons assembled for the event, including project personnel, representatives from Frontex, EFCA, Swedish Police Authority, Swedish Military and coast guard.  
The day began with a welcome address from the director general of the Swedish Coast Guard​, Judith Melin.
Adrian Hoppe (Fraunhofer IOSB)​ then presented a technology solution overview, giving insight into the service solutions provided by the AI-ARC project and am introduction to the VCR​. Also is a group of demo participants using the Virtual Control room tool.
The Baltic Demonstration showed how illegal activities can be detected​ by AI-ARC services by testing the following Use Cases:​
Grounding​
Environment​
Infrastructure​
Illegal Fishing​
Smuggling​
The Use-Cases were demonstrated separately, but in VCR they will be running and visualizing everything simultaneously​.
This was followed by a discussion session.
Johanna Karvonen (pictured), Laurea University of Applied Sciences closed the day with a presentation on the next steps for the AI-ARC Project. 
We are looking forward to AI-ARC'S next event, the upcoming Arctic Demonstration in Reykjavik on October 18th. The focus at this demo will be on major search and rescue incidents as well as safe navigation, including ice and weather information, and will be aimed more at civilian mariners​.
Another important upcoming event is the VIP day in Brussels, December 2023 at this event the results from the demonstrations and next steps after the project​ will be presented.